CALAHE Student Conference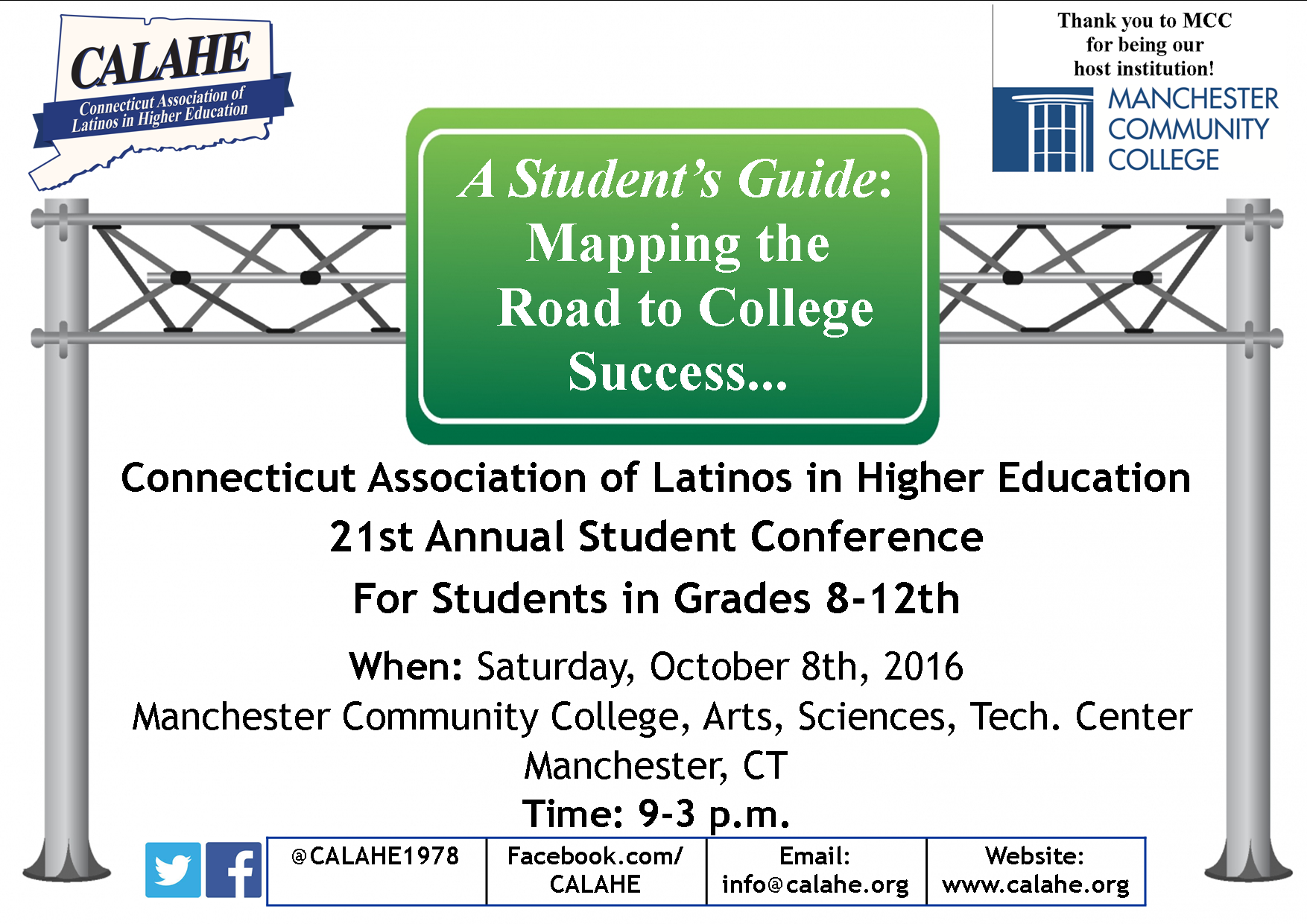 Saturday, October 8, 2016 Manchester Community College Manchester, CT
For students in Grades 8th—12th www.calahe.org
Click on the following link to register for the student conference: CLICK HERE!
*CONFERENCE UPDATES*
The conference will be held in the Arts, Sciences, & Technology Center/SBM Charitable Foundation Auditorium.
Parking for Buses and others: West Parking lot.
The conference begins at 9 a.m. for registration and continental breakfast, however we suggest that you try to get here by 8:45 a.m. We will begin promptly at 9:30 a.m.
If you are attending as a group and traveling by bus you may park in the West Lot. If you park in West Lot and look toward the buildings, it is the glass and brick building directly in front of you with a five floor tower.
*Please note the Hartford Eversource Marathon is expected to have road closures*
Click here for Complete Road Closures, Click here for State Road Exit Closures, and Click here for Traffic Alert Hartford
College Fair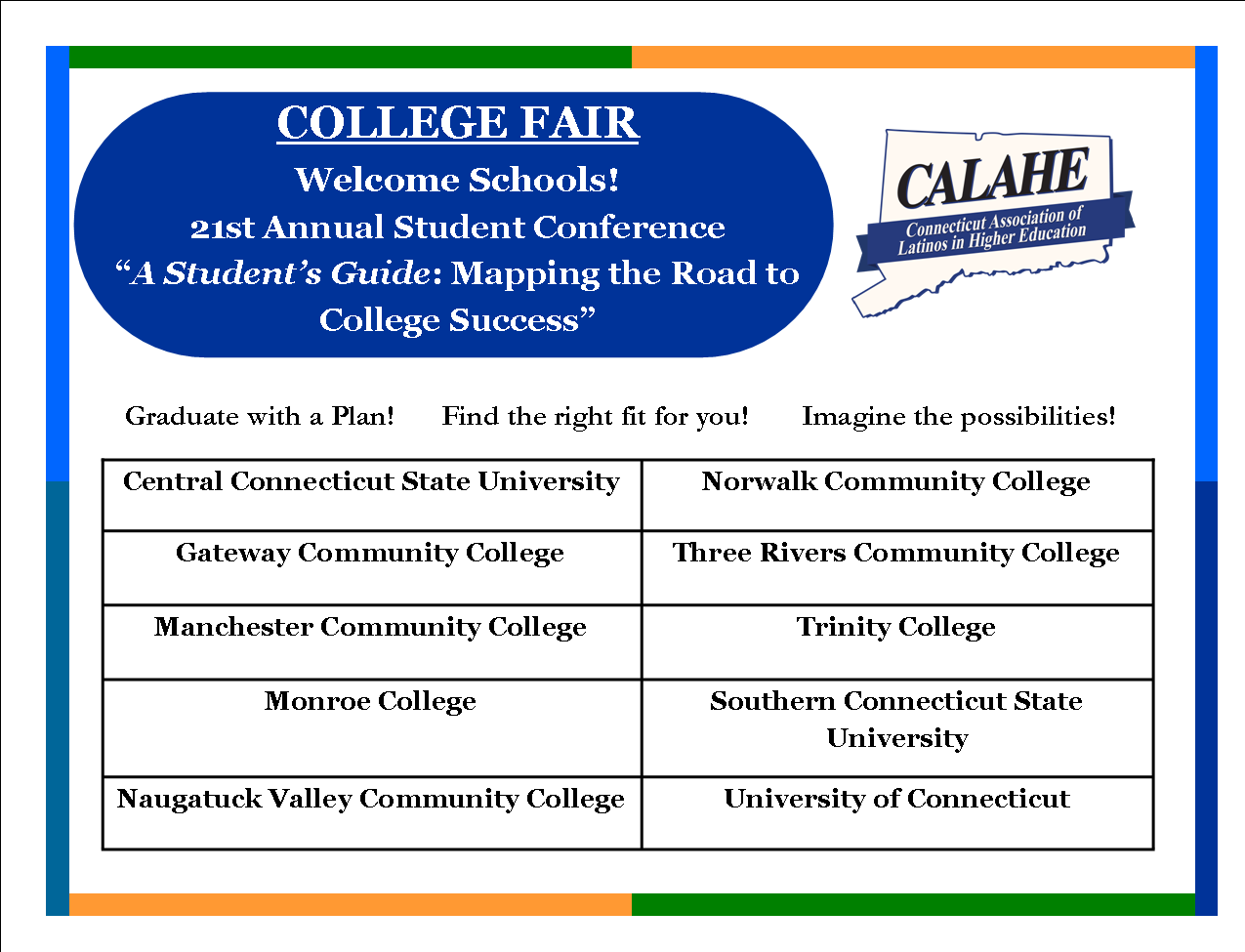 You are cordially invited to join us at the 21st Annual CALAHE Student Conference. The conference will be held in the Student Services Center at Manchester Community College on Saturday, October 8, 2016, from 9:00 a.m. – 3:00 p.m. The conference will include a college fair from 11:30 - 1:30pm
This college fair is an excellent opportunity for you to meet with hundreds of college-ready students from all across Connecticut. Through this conference, we hope to provide a unique opportunity to engage students grades 8th-12th. This year's conference theme"A Students Guide: Mapping the Road to College Success" will draw attention to fundamental issues of college readiness and access. The conference will be used to reinforce the academic and career preparation needed in order to compete in today's labor market.
Click on the following link for the online college fair registration form: CLICK HERE!
Cost fee: $100, After the 9/30/16 deadline $150, at the door $175.
Keynote Speaker Bio:

Tentative Conference Agenda:
21st Annual CALAHE's Student Conference
Saturday, October 8, 2016
9:00a.m. - 9:30a.m.

Registration and Continental Breakfast

9:30a.m. - 10:00a.m.

Welcoming Remarks

10:00a.m. -11:00a.m.

Workshops

11:00a.m. -12:00p.m.

Workshops

12:00a.m. -12:30p.m.

12:00a.m - 1:30p.m.

Lunch

College Fair (1.5hrs)

1:45p.m - 2:45p.m.

Keynote Speaker/other

2:45p.m. - 3:00 p.m.

Closing Remarks


For more information please contact:
Katherine Ramirez or Maribel Sanchez at 860-832-0660 info@calahe.org.
Make A Donation
We need your help in engaging Latino students and equipping them with education, experience, and skills essential to the future of our country. Together, we can expand access to colleges and universities of our Latino youth.
Donate to the CALAHE Scholarship fund!